Compact Flash UltimaPro 600x
Experience extreme speed with the UltimaPro CompactFlash 600x from Integral. Designed to give a blistering performance in the most demanding Pro DSLR cameras. Supports up to UDMA 6 and saves data at up to 90MB/s.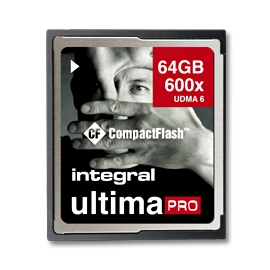 Benefits
Integral UltimaPro CompactFlash 600x speed uses a state of the art controller to ensure that when you take a picture, data is saved faster, so there is less time to wait before taking the next picture - perfect for the latest Digital SLR cameras
UDMA 6-enabled, for stunning performance when used with UDMA-enabled devices Meets the demands of Full HD video recording in compatible Digital SLR cameras
UltimaPro high-speed performance improves transfer speeds from memory card to computer, reducing your post-production time - making it a top choice for photo and video editing professionals
Any Digital SLR camera will perform better with the use of an UltimaPro 600x Speed CompactFlash compared to standard speed cards
Features
Super-fast write speed of 90MB/sec (600X)*
View your pictures with a read speed of 90MB/sec (600X)*
Supports up to UDMA (Ultra Direct Memory Access) mode 6
CompactFlash Association approved
Complete with free protective case
5 year warranty
If you're not sure that you need a Compact Flash UltimaPro 600x why not check your machine on our online memory configurator which shows the right memory for over 100,000 computers, printers, cameras, routers, phones and tablets?
Safe and Secure
Memory Express is certified secure by Comodo, the world's leading authority on web security
Checkout and Order

You have items in your basket.

Checkout
Easy Shopping
We take payment by Paypal, Google Checkout and all major cards through our 100% secure servers.

Quick Delivery

We can often deliver overnight for existing account customers.
Any Questions?

We're always happy to help - you can call us on 020 8453 9700 or email sales@memory-express.co.uk
NB You do not need to log in or register to place an order. Logins are to our corporate purchasing system and for those customers with existing terms.
| | |
| --- | --- |
| Your email | |
| Your question | |
| Product | |